Location/ Contact
Contact and Directions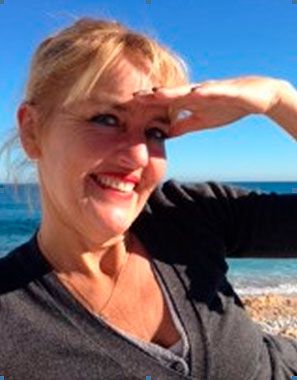 Who am I:
I'm Caroline and living since 2007 in the beautiful Moraira, where I started with the rental of 2 apartments.
Since 2011 I have also beautiful rental accommodations from third parties.
The accommodations are available throughout the year for vacation.
By the small exclusive selection of holiday homes and apartments, I am able to give you more personal attention to the most important point of view you a comfortable holiday.
I will always do my best to help you during your stay and if anything is needed, I will be there as soon as possible. Do you have a special request? Please let me know in good time.
Thank you for visiting my website, I hope you also in person.
With friendly sunny greeting
Caroline
For questions and further information regarding the rental options and bookings from the 10.00 to 18.00 hours please call of accommodations, (also on weekends) or email:

Caroline Groenendaal
Calle Pintor Tapies 13
Buzon 8761
03724 Moraira-Teulada (Alicante)
España

Email: info@vakantiehuis-costablanca.com
Mobile: 0034 646133799
Website: www.vakantiehuis-costablanca.com
Route for the key of your accommodation to pick up: (or we speak at the property itself)
From Alicante: Highway AP-7 E-15 direction, Valencia, Benidorm, (not the AP-7 exit Benidorm, but straight towards Valencia A70, it goes after Alicante about in the AP-7, E15)
From Valencia: motorway AP-7, E-15 direction Gandia, Alicante, Benidorm (toll road!! Direction Alicante por la costa, and not por interior!!)

then:
-Take Exit 63 Teulada/Benissa
-After paying the toll go straight direction Oliva/Valencia and after about 4 km, then follow your Teulada and Moraira,

In Moraira arrived (still 2 km to (for) the Centre) the first roundabout towards Moraira and then the first left (just before Paichi Garden Center Garden a/d right hand) up (besides boats case) this street is called Pintor Durero, then again first road and then you're all right on Pintor Tapies, then continue straight ahead to nr 13 (is the 6th House) on the right, has light yellow walls with wavy in it, at the end is a parking lot and my call)
Cheap airline tickets and car rental
Low-cost, to recommend Vueling Airlines are via Valencia, or Transavia via Alicante, Valencia Valencia (from Amsterdam, Rotterdam or Eindhoven). Ryanair (via Eindhoven or Dusseldorf-Weeze) from Alicante and Valencia, budgetair. Or via Cheaptickets where you have an overview of various options
The best you already rent a car in your country, cheap car (and advance reservation or booking possible doyouspain.com.of http://www.skippyrentacar.com/
Petrol and diesel are in Spain significantly cheaper.