Availability
Reservation schedule for the accommodations
Occupation by 2 persons per accommodation in euro starting from:
(With the exception of Villa El Tosalet is the base price for 4 persons and extra persons (a) 50,-p.p.p.w. exception: In the high season is the price for the Villa excl meerpersonenprijs at  Villa La Fosca, Villa Theodoro (up to 5 persons) and at Villa El Tosalet to 12 people after extra charge per person) see table additional costs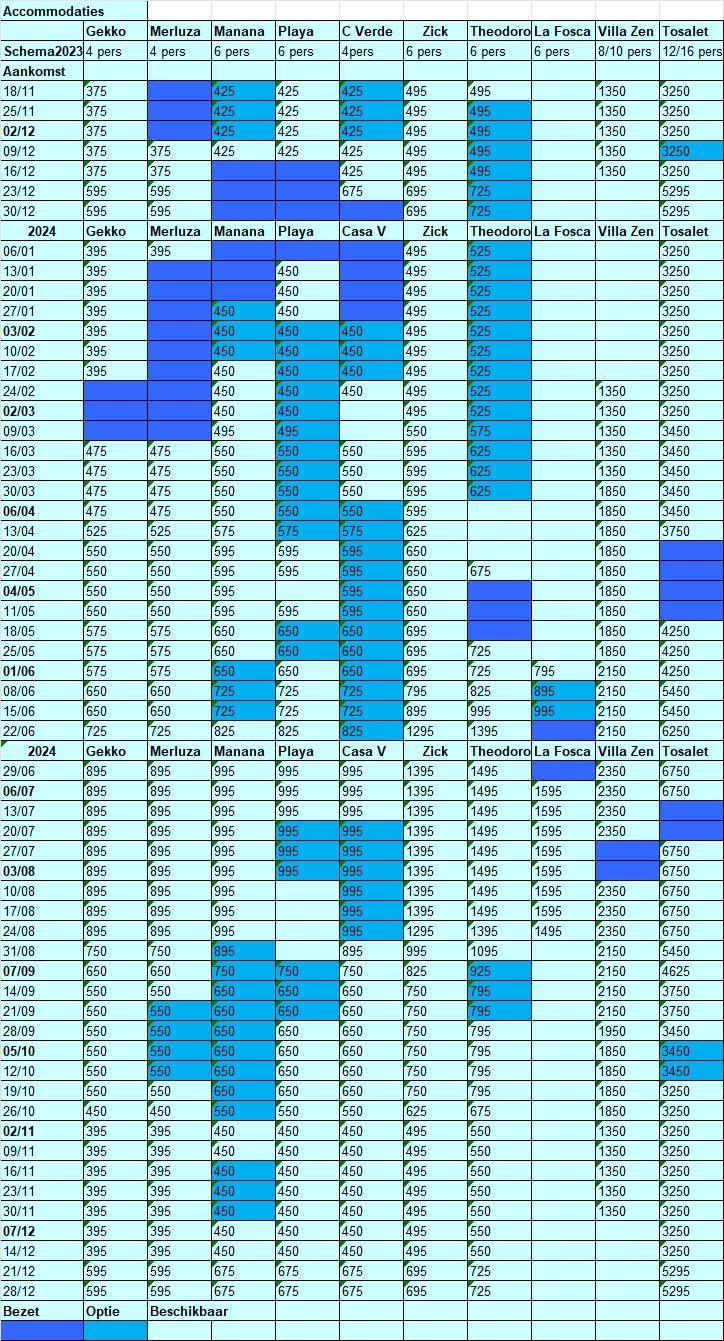 Booking
For questions and further information regarding the rental options and bookings from the 10.00 to 18.00 hours please call of accommodations, (also on weekends) or email:
For more information you can call me or send an email to:
Tel: 0034 646133799
E-mail : info@vakantiehuis-costablanca.com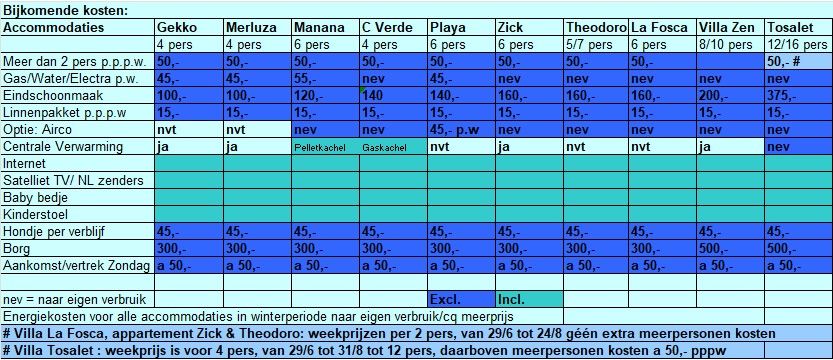 Arrival and departure
Arrival: Saturday from 16:00
Departure: Saturday for 10:00
A rental week runs from Saturday to Saturday. (out of season otherwise possible in consultation)
When booking for more than 2 people per accommodation you pay an additional charge of €50,-per person per week. (except Villa El Tosalet, there from 4 persons an extra charge of €50,-per person per week)
When booking for 4 weeks or longer you will be given special discount.
For the months of November, December, January, February, March can also be booked per month inquiry to our special winter monthly prices.
Pets are allowed on request.
On site car (rental) is necessary.
We encourage you to self cancellation and travel insurance.
No beach towels in the linen package are included, this you need to bring.
The deposit is €300,-Euro per stay per accommodation, at Villa El Tosalet €700, the deposit-this is like cash on arrival.
Alicante Airport = 95 km
Valencia Airport = 130 km